ELEVATE YOUR GUITAR TONE WITH 3 CLASSIC FLAVORS OF REVERB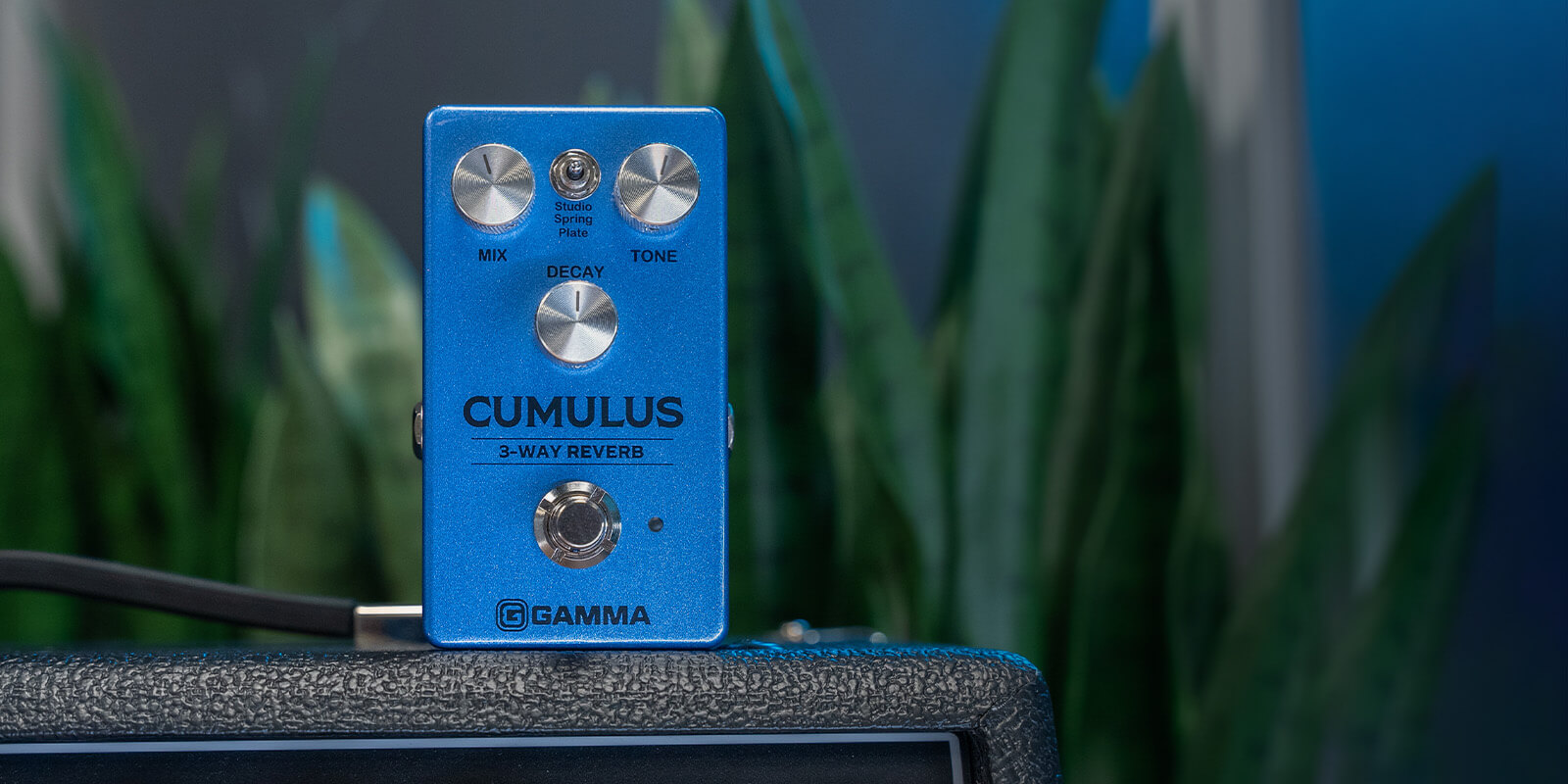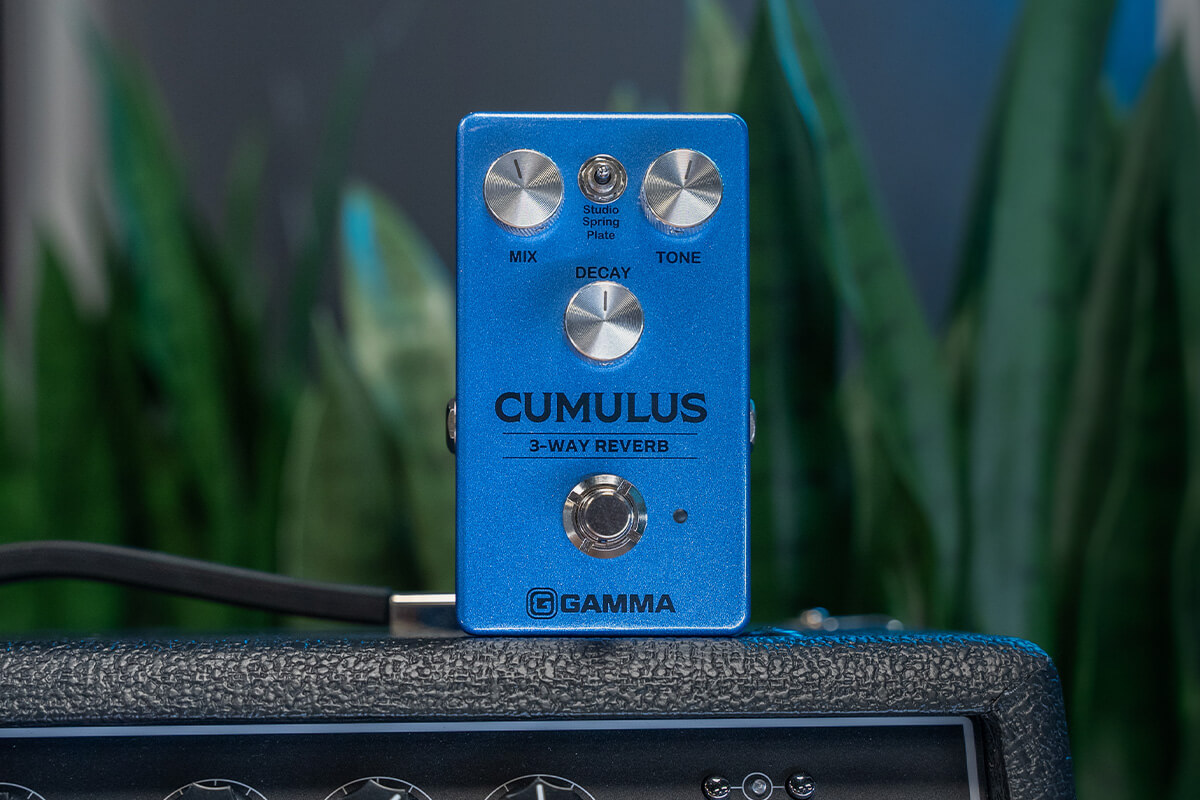 The GAMMA Series CUMULUS 3-Way Reverb packs three iconic flavors of reverb in a single pedal. When you need subtle ambience, choose Studio mode for room reverb that doesn't muddy up your sound. Spring mode conjures the splashy sound of vintage spring reverb units, perfect for surf, rockabilly, and other styles. And Plate creates a smooth wash of sound reminiscent of classic studio plate reverb units.
SHAPE YOUR SOUND FOR ANY MIX
It's easy to shape your reverb effects to suit any mix and any musical style with the CUMULUS 3-Way Reverb. The Mix control determines the balance of your dry guitar signal with the reverb effect, while the Decay knob controls how long the reverb trail lasts. And with the Tone control, you can fine-tune how bright or dark the reverb effect sounds to achieve your ideal tonal balance.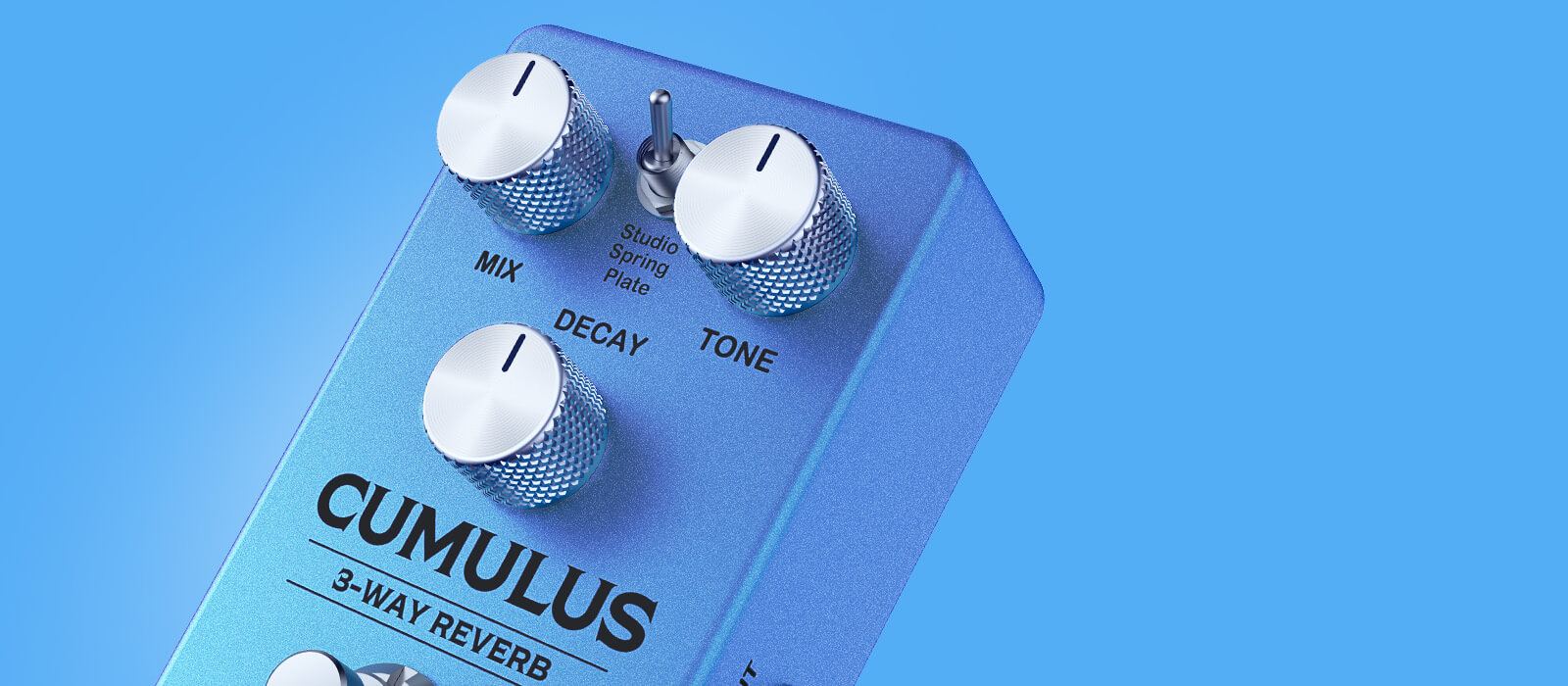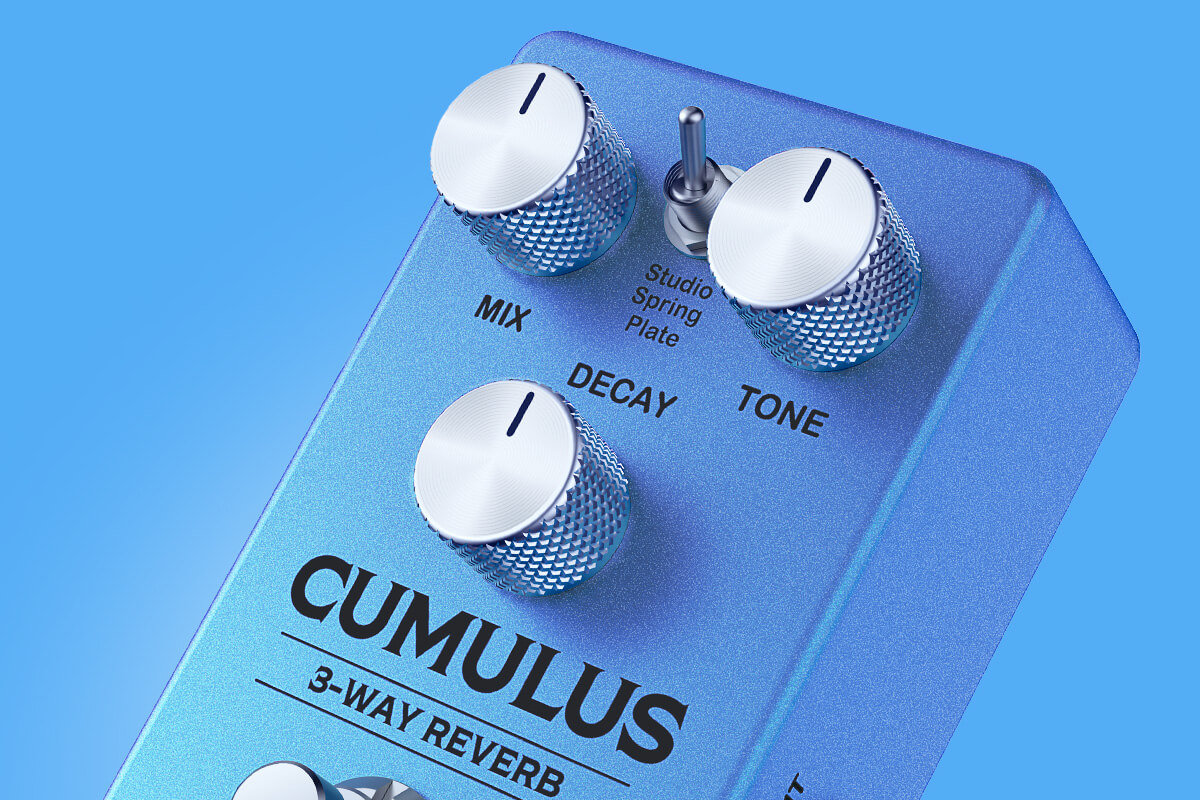 RUGGED ALL-METAL CONSTRUCTION
The CUMULUS 3-Way Reverb pedal features a metal case and metal knobs for maximum durability. The battery compartment is easily accessed from the bottom panel, and the CUMULUS 3-Way Reverb can also be powered by a standard 9V pedal power supply (not included).
HEAR IT NOW
Cumulus Playlist
PEDAL: Cumulus, Noon, Studio

AMP: G50, Channel 1, all EQs at noon

GUITAR: Les Paul, middle pickup position

PEDAL: Cumulus, Low, Studio

AMP: G50, Channel 1, all EQs at noon

GUITAR: Les Paul, bridge pickup position

PEDAL: Cumulus, Full, Studio

AMP: G50, Channel 1, all EQs at noon

GUITAR: Les Paul, neck pickup position

PEDALS: Bacchus into Cumulus, Studio Rev + Noon Drive, Studio (on Cumulus), Normal (on Bacchus)

AMP: G50, Channel 1, all EQs at noon

GUITAR: Les Paul, bridge pickup position

PEDAL: Cumulus, Noon, Spring

AMP: G50, Channel 1, all EQs at noon

GUITAR: Strat, neck pickup position

PEDAL: Cumulus, Low, Spring

AMP: G50, Channel 1, all EQs at noon

GUITAR: Strat, middle-bridge split pickup position

PEDAL: Cumulus, Full, Spring

AMP: G50, Channel 1, all EQs at noon

GUITAR: Strat, neck pickup position

PEDAL: Cumulus, Noon, Plate

AMP: G50, Channel 1, all EQs at noon

GUITAR: Strat, middle pickup position

PEDALS: Atlas into Cumulus, Plate Rev + Low Drive, Plate (on Cumulus), Normal (on Atlas)

AMP: G50, Channel 1, all EQs at noon

GUITAR: Les Paul, bridge pickup position

PEDAL: Cumulus, Low, Plate

AMP: G50, Channel 1, all EQs at noon

GUITAR: Les Paul, bridge pickup position

PEDAL: Cumulus, Full, Plate

AMP: G50, Channel 1, all EQs at noon

GUITAR: Les Paul, bridge pickup position

PEDALS: Eros into Narcissus into Cumulus, All @ Noon, Plate (on Cumulus)

AMP: G50, Channel 1, all EQs at noon

GUITAR: Strat, neck pickup position

PEDALS: Bacchus into Eros into Narcissus into Cumulus, All @ Noon, Plate (on Cumulus), Normal (on Bacchus)

AMP: G50, Channel 1, all EQs at noon

GUITAR: Strat, bridge pickup position
GAMMA CUMULUS Boosted Overdrive Pedal