CREATE GUITAR TONES THAT SOAR WITH VINTAGE-STYLE DELAY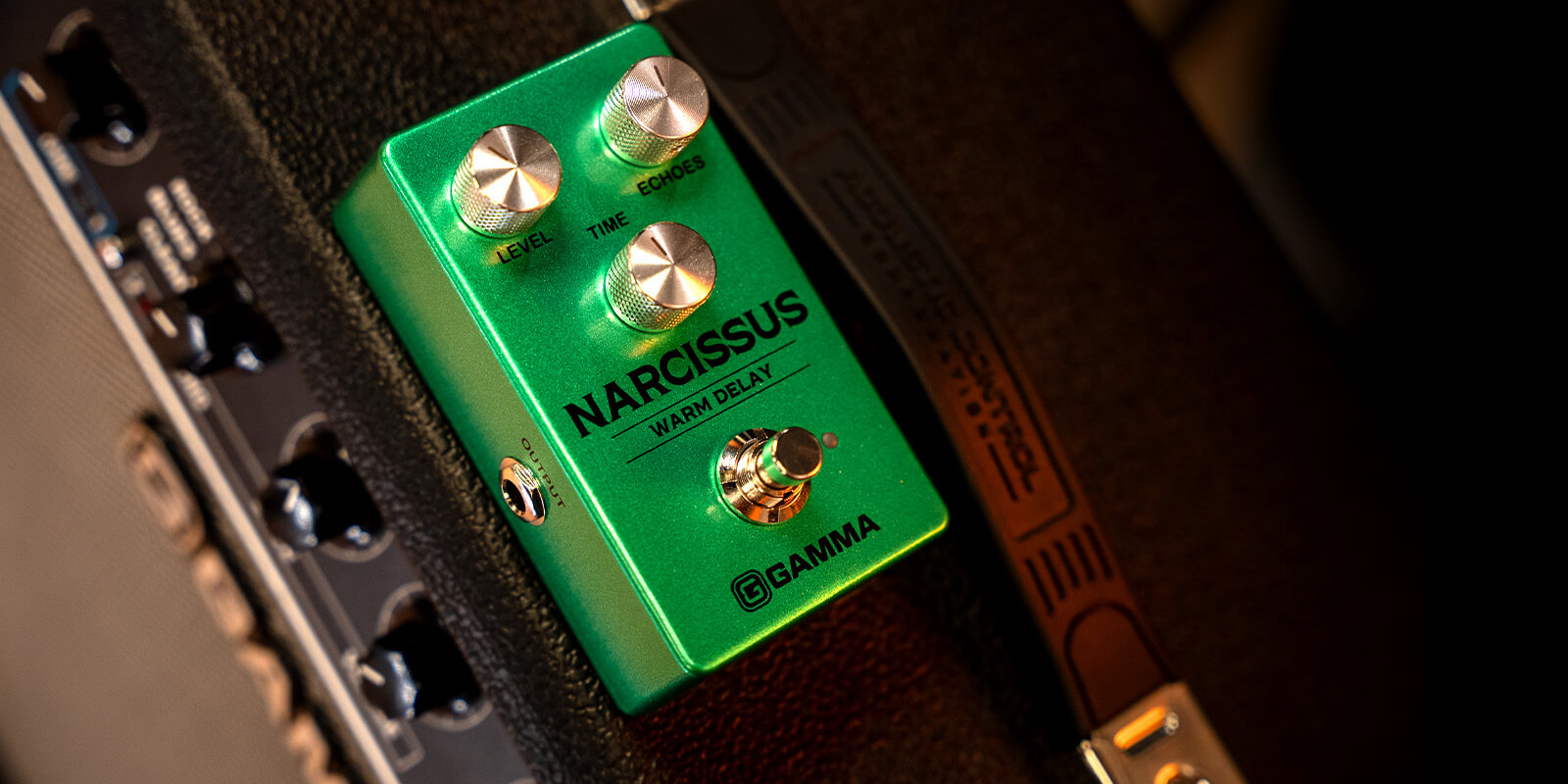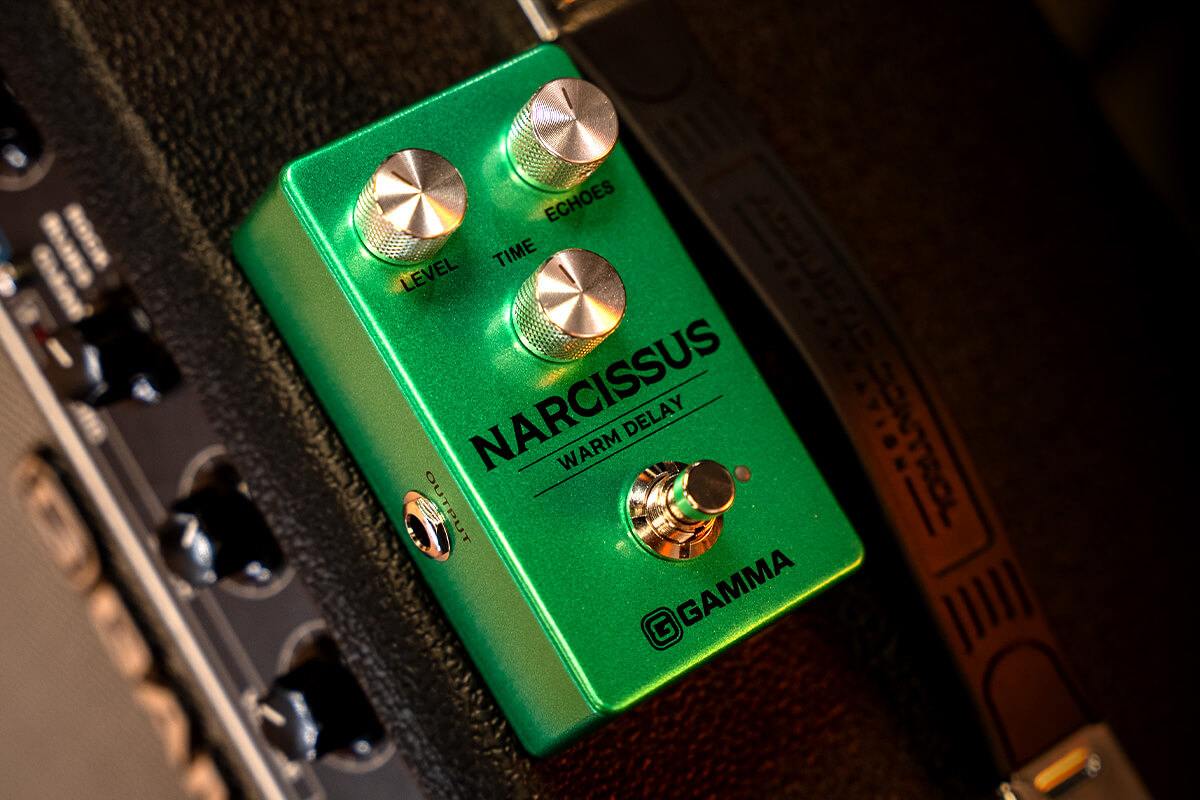 WARM DELAY WITH VINTAGE CHARACTER
The NARCISSUS Warm Delay effects pedal delivers classic delay effects with the character of vintage "bucket brigade" delay. Delays gradually become darker with each repeat, generating a rich echo trail that doesn't compete with new notes that you're playing.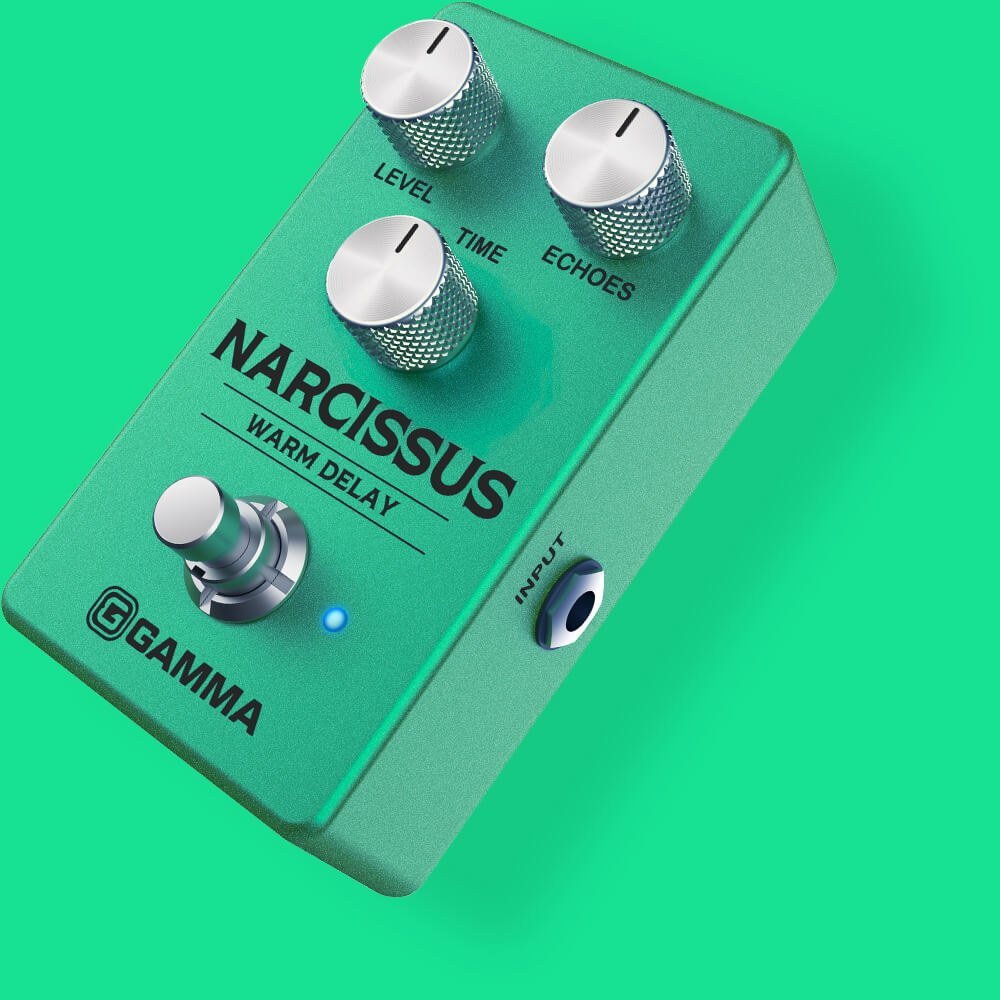 EVERYTHING FROM SLAPBACK TO SELF-OSCILLATION
You can generate a wide range of delay effects with the NARCISSUS Warm Delay pedal, from short slapback delay to longer trails of echoes and beyond. Cranking up the Echoes knob sends NARCISSUS into self-oscillation, generating a never-ending wash of sound for serious sonic intensity.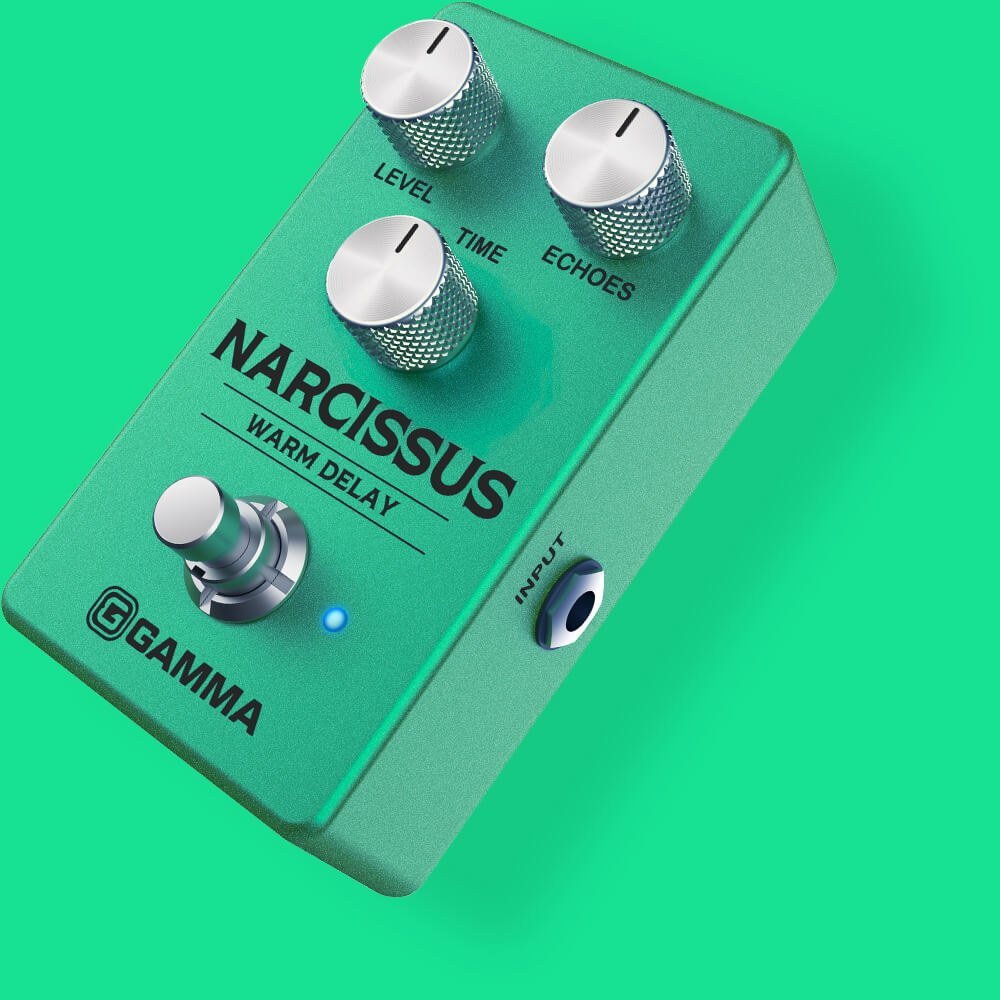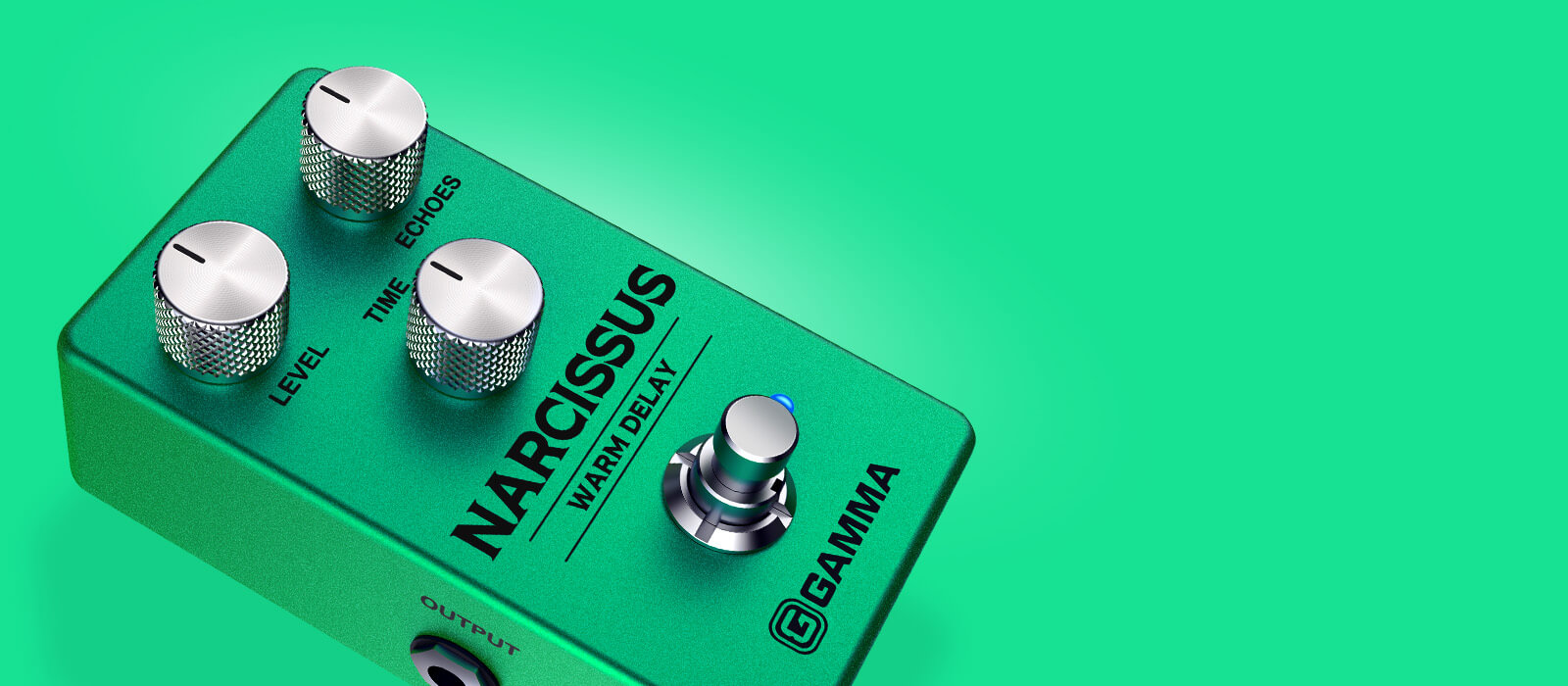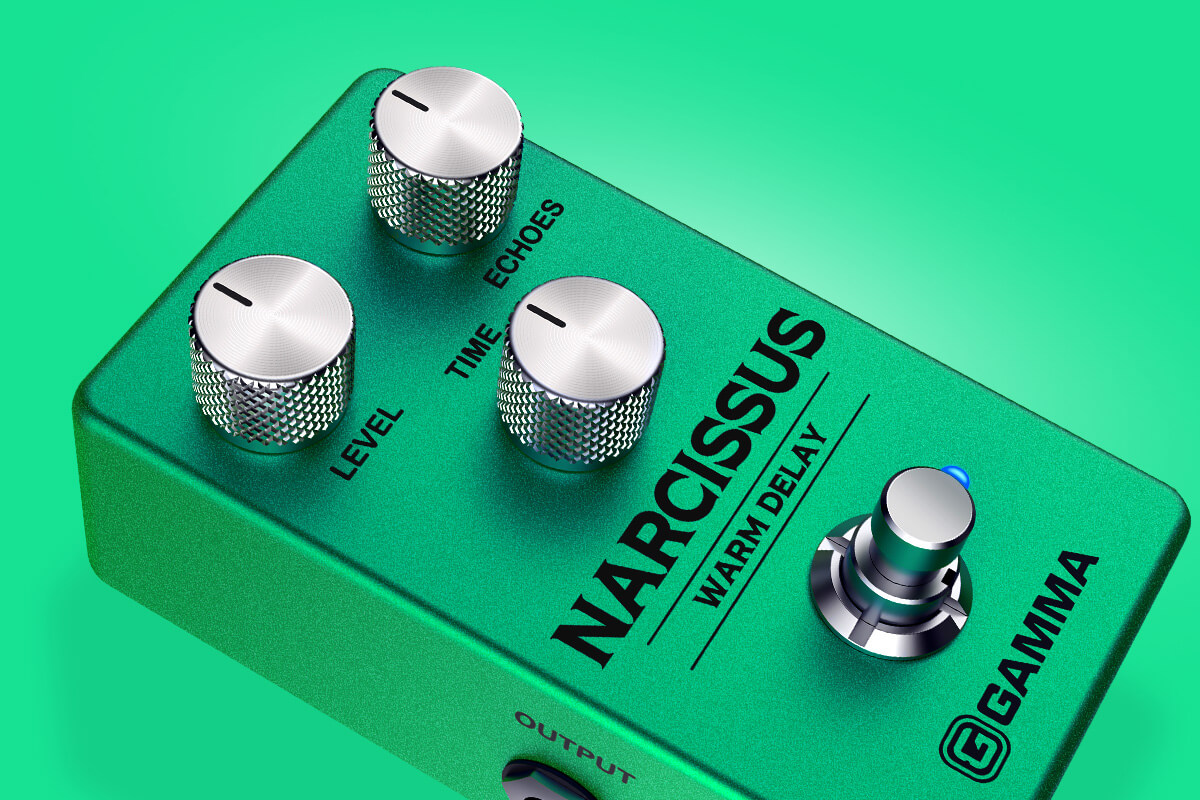 RUGGED ALL-METAL CONSTRUCTION
The NARCISSUS Warm Delay pedal features a metal case and metal knobs for maximum durability. The battery compartment is easily accessed from the bottom panel, and the NARCISSUS Warm Delay can also be powered by a standard 9V pedal power supply (not included).
HEAR IT NOW
NARCISSUS PLAYLIST
PEDAL: Narcissus, noon

AMP: G50, Channel 1, all EQs at noon

GUITAR: Les Paul, bridge pickup position

PEDALS: Atlas into Narcissus, Delay + Low Drive, Normal (on Atlas)

AMP: G50, Channel 1, all EQs at noon

GUITAR: Les Paul, neck pickup position

PEDAL: Narcissus, Short Slap

AMP: G50, Channel 1, all EQs at noon

GUITAR: Strat, middle pickup position

PEDAL: Narcissus, Max Time

AMP: G50, Channel 1, all EQs at noon

GUITAR: Les Paul, neck pickup position

PEDAL: Narcissus, Self Oscillation

AMP: G50, Channel 1, all EQs at noon

GUITAR: Strat, neck pickup position

PEDAL: Narcissus, Self Oscillation

AMP: G50, Channel 1, all EQs at noon

GUITAR: Strat, neck pickup position

PEDALS: Eros into Narcissus into Cumulus, All @ Noon, Plate (on Cumulus)

AMP: G50, Channel 1, all EQs at noon

GUITAR: Strat, neck pickup position

PEDALS: Bacchus into Eros into Narcissus into Cumulus, All @ Noon, Plate (on Cumulus), Normal (on Bacchus)

AMP: G50, Channel 1, all EQs at noon

GUITAR: Strat, bridge pickup position
GAMMA NARCISSUS Warm Delay