By Victor Brodén
November 2018
When a bassist sees the Acoustic logo and familiar baby-blue/black color scheme, chances are he or she will reminisce about the best-known player associated with the brand: Mr. Jaco Pastorious. The aggressive bridge-pickup midrange and signature growl from his fretless J certainly had help from the Acoustic head he was often seen plugged into. And let's not forget the other '70s greats associated with Acoustic, such as Larry Graham, John Paul Jones, and John McVie. With a rich history since the company's humble beginnings on Sunset Boulevard in Los Angeles 50-plus years ago, Acoustic recently released a new line of budget-minded bass combos. We had the opportunity to check out the B100C: the 1×12, 100-watt model in the series.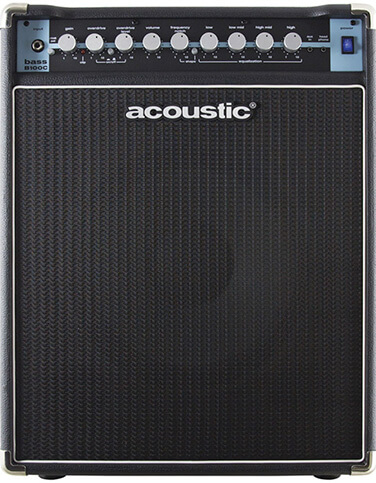 A Good Wedgie
I nodded my head in approval the moment I pulled the B100C out of its box. Thanks to its cabinet design, the combo has the option of being positioned monitor-style or standing up in a traditional fashion. The design looks great and makes the amp easier to fit in smaller spaces and cars due to its decidedly less-boxy shape. A big benefit is the ability to position the combo in front of you onstage for those times when the FOH engineer doesn't want any stage volume at all, which happens surprisingly often. I'd like to see more manufacturers make this a standard cabinet shape.
The B100C has front-panel features one would typically have to seek out in a higher price range. It has a 4-band EQ with controls for low mid and high mid, a blend control for the onboard overdrive section, and separate gain and volume controls. Another bonus is the frequency notch filter, which goes through a variety of preset EQ curves as it's being turned clockwise.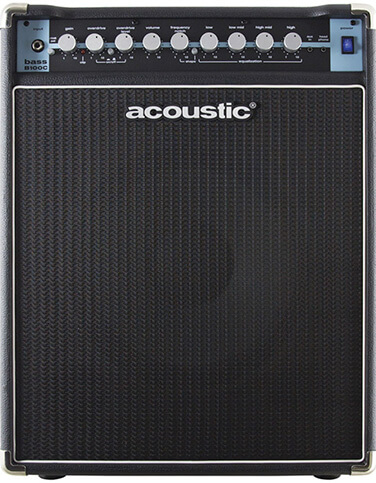 There was no need to push this baby to make it show its true character, which is very handy when recording with a mic in front of the speaker.
The control functions slightly differently than the enhance or character knobs seen on other combos, which alter several frequencies at once. The Acoustic's frequency notch filter grabs onto one frequency area and allows you to move that singular cut from the sub lows up to the very top of the highs as you turn the control clockwise. It's a quick solution to EQing for players not yet comfortable with the finer details of a 4-band EQ.
While an aux in and headphone out are common features on amps of this caliber nowadays, it's still nice to see them on the B100C, because they add to its versatility. Around back, the amp houses an XLR out that can be used pre or post EQ and has a corresponding output-level dial.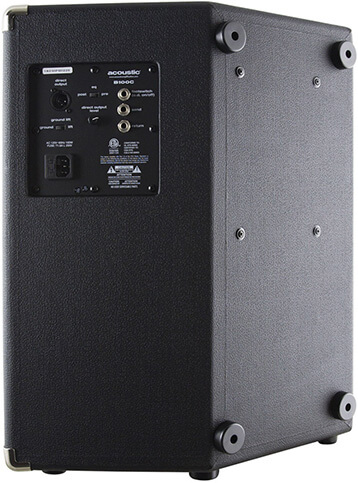 In Use
When I turned on the amp, I immediately thought it sounded just like, well, an Acoustic. By that I mean it has an inherent musicality in the high mids that is somewhat vintage sounding. This musicality turned fret noises and finger slides into something enjoyable and organic sounding—something I've found that a few companies in the vintage-sounding bass amp market have lost in recent years.
The amp delivers even more of a vintage rock 'n' roll sound with the shape switch engaged, which made pick styles sound just right without any additional EQ needed. That said, I was also impressed with the way this amp sounded absolutely flat. I find that smaller combos and bigger amps alike often leave me wishing there was a little more bass in the sound with the EQ set flat. Acoustic got it right by designing this combo with correct low-end voicing.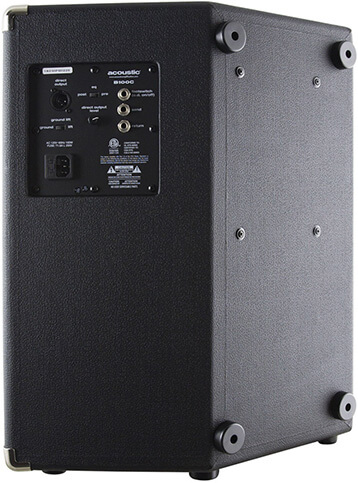 I applaud the inclusion of the overdrive section on the B100C. It made easy work of dialing up anything from a slight speaker breakup to roaring super-fuzz-feeling tones ideal for indie rock. I personally prefer a brighter, more-distortion-than-fuzz sounding overdrive channel, and I found that some of the higher transients and overtones got lost with the B100C's overdrive section. But if traditional, wooly sounding fuzz is your thing, this OD will be highly satisfactory. High points are due for the inclusion of a blend control to ensure a solid foundation is retained when engaging the overdrive.
Immediately to the right of the OD section is the volume control. It's probably a correct placement from a signal-chain perspective, but I think it could be difficult to see in a dark club and more challenging to grab for a quick, mid-song volume change. If it was up to me, placing it to the right, at the end of the control section, or making the knob a different shape or color would address the volume control feeling somewhat hidden in the middle of the front panel.
When I played through the B100C at louder, full-band-rehearsal volume, I noticed that the 5th string caused a little speaker distortion at times, but this wasn't really a surprise with just the single 12″ driver. During my more thorough lower-volume testing, I enjoyed switching between playing styles and hearing the B100C retain the strong tonal character of the preamp, even when played quietly. There was no need to push this baby to make it show its true character, which is very handy when recording with a mic in front of the speaker.
The Verdict
The thought Acoustic put into making a modern, versatile line of small combos really shows in the big brother of the series. A beginner or intermediate player gets a lot of features and functions in this package. A pro gets a usable amp for low- and mid-volume smaller shows. The B100C is also a usable recording solution from both a DI and mic standpoint—all at a very attractive price. The vintage-esque good looks paired with modern amenities is a combination sure to win this small powerhouse a legion of happy bassists.