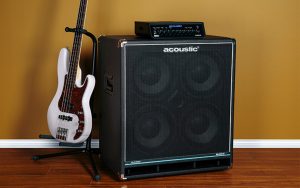 Thousand Oaks, CA – November 2017
From the classic festivals of the '60s and '70s to the evolution of high-powered bass rigs, Acoustic® Amplifiers has always been the amp musicians look to for "the pro's tone." Now, Acoustic brings back that classic sound with the new B410C Bass Cabinet.
Sporting the time-tested 4 x 10-inch configuration cherished by generations of bassists, the Acoustic B410C Bass Cabinet handles 400 Watts through four custom-designed traditional ferrite speakers, delivering the coveted warm, smooth sound with just the right combination of low-end punch and midrange definition. Combined with a defeat-able high-frequency horn driver, the B410C translates your tone across the entire bass spectrum with articulation and authority. Its 8-Ohm impedance rating and parallel 1/4-inch inputs make it easy to run multiple cabinets from a single amp head for a wide range of configurations.
The B410C features a rugged, tour-tough, multi-layer plywood cabinet designed to deliver powerful, solid tone and performance while reducing weight and bulk. The cabinet is equipped with heavy-duty spring-loaded side handles and castor-ready sockets for easy transport.
"This great cab harkens back to the original bass speakers that consistently delivered amazing tone for serious bassists," remarks Brian Harsh, Acoustic product manager. "The new B410C Bass Cabinet brings back that classic powerhouse bass sound, with a modern day flavor."
The B410C Bass Cabinet is available at a street price of $299.99 at all Guitar Center stores, from Musician's Friend, and online at guitarcenter.com.