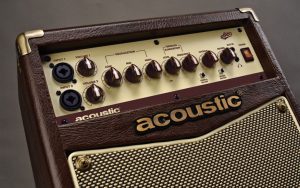 New Amp is Purpose-Built for Acoustic Instruments and Vocals
Westlake Village, CA – July 2014
Acoustic Amplification has introduced their newest creation, the Model A20 Acoustic Instrument Amplifier.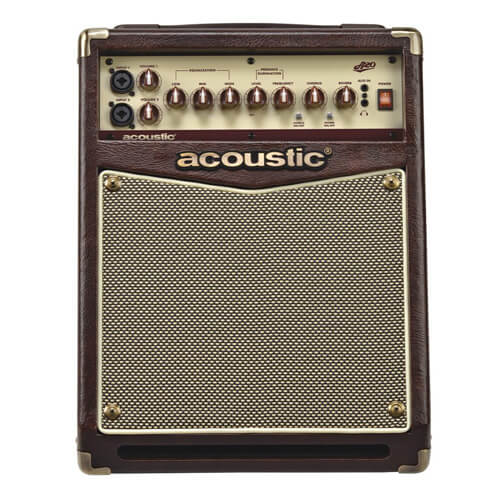 More than just a guitar amp, the Acoustic A20 is a complete performance solution for today's versatile acoustic-electric musician. Its full-range 8-inch studio-quality coaxial speaker, ported cabinet design, and 20 Watts of clean, pristine power effortlessly fill the room with rich, crystalline sound. Plug in a microphone and any acoustic instrument with a pickup and you're ready to go.
Expressly designed to bring out the nuance and natural detail of acoustic instruments and vocals, the A20 delivers the advanced tone shaping control that has made Acoustic Amps "The Pro's Tone" for almost half a century. Lightweight and portable, the A20 is packed with features, including two combo XLR-1/4″ inputs with independent level controls, 3-band EQ, digital reverb and chorus, effects loop, and Acoustic's acclaimed Vari-Control feedback eliminator.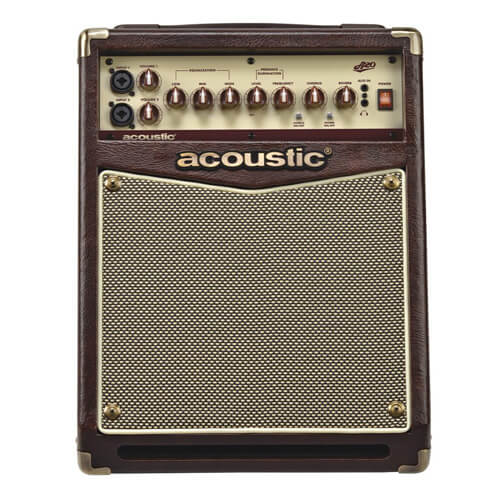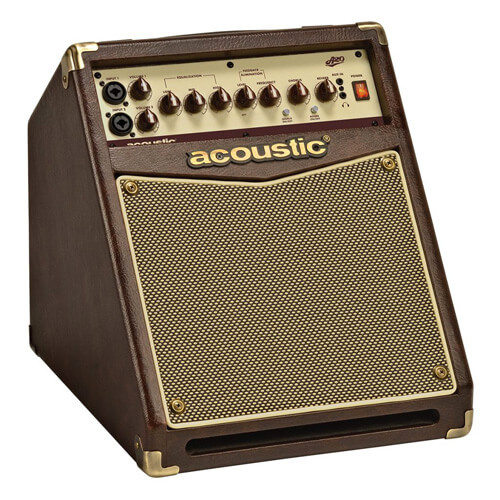 With its unique wedge-shaped design, the A20 makes a great, full-featured stage amp. With the power and performance of a small PA system, it's the ideal rig for coffee houses and other acoustic performances, solo keyboard gigs, home recording, and small to mid-sized karaoke shows. The Acoustic A20's 1/8-inch Aux input and headphone output also make it a great fit for players looking for a small, portable practice amp. A full-featured direct output with pre-post EQ switch and level control connects the A20 to any PA system for larger venues.
"Today's musicians are more mobile, and more versatile than ever before," remarked Rick Gagliano, Acoustic Product Manager. "The A20 addresses those needs, with a lightweight but powerful design that can easily adapt to a wide range of performance conditions. Whether it's a PA for a mid-sized coffee house gig or a stage setup for a club gig, the A20 has the sound and the features today's musicians are asking for."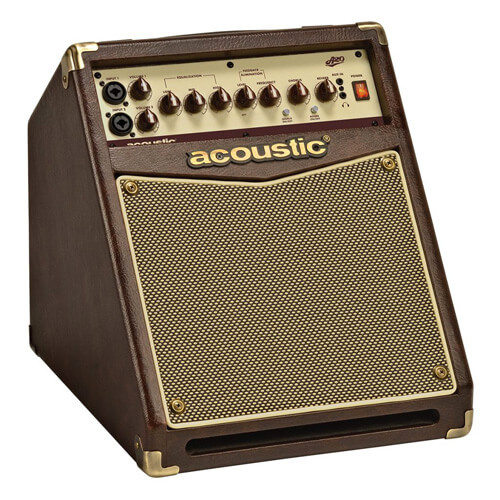 The A20 Acoustic Instrument Amp will be available in mid-September with a street price of $129.99.
---
About Acoustic
The Acoustic® Amplification company was established in 1967 and has been producing renowned amps sought after for their enormous tone and power. For almost 50 years, many players have trusted "The Pro's Tone" for their signature sound, both on stage and in the studio. Acoustic offers an ever-expanding line of stringed-instrument amplifiers, including their Lead Series electric guitar amplification and AG series of acoustic instrument amplifiers. You can learn more about the complete lineup of Acousticproducts at www.acousticcontrolcorp.com.
For more information contact: Acoustic Amplification, P.O. Box 5111, Thousand Oaks, CA 91359.